Veterans Monument
On Memorial Day we recently honored those Americans who made the ultimate sacrifice in defending our country. The Veterans Monument in the Village of Hamburg Memorial Park recognizes all Americans who served in the United States military. This monument, which was originally called the Civil War Veterans Monument, was unveiled in Hamburg in 1910 in the Park, which is located at Lake and Union Streets. A close look at the Monument today will show that it has been rededicated twice since it was originally unveiled. Besides the original inscriptions on the front and back of the monument, a plaque was added on May 30, 1920 rededicating the site to include the veterans of World War 1.On August 20, 1998 a second plaque was attached to the memorial paying tribute to all our veterans who served in all our nation's wars
Veteran's Day, which is the day set aside for honoring the veterans, has traditionally been on November 11th but it has also been updated to include the veterans of other U.S. conflicts abroad on at least two occasions. Originally, the day was called Armistice Day and was first observed in the United States on November 11, 1921 when the body of an American Unknown Soldier that had been disinterred in France was brought home from Europe and laid to rest in Arlington National Cemetery. President Warren G. Harding presided at the interment. At 11 am, the time the Armistice ending World War I had gone into effect, the casket was lowered into the Tomb. The early commemorations of Armistice Day during the 1920's paid special tribute to all those who had served in World War I.
By 1950, the celebration of the World War I armistice received little attention in this country. However a movement began to observe November 11th, not just for World War I veterans, but in honor of all persons who had fought for their country. As a result in 1954 President Dwight D. Eisenhower, bowing to the wishes of many veterans' organizations, signed a bill specifying that Armistice Day thereafter be known and commemorated as Veterans Day.
This was followed in June 1968 by President Lyndon Johnson signing a law making Veterans Day a federal holiday, to be observed on a predetermined Monday, to provide Americans with an additional three day holiday weekend. The law went into effect in 1971 moving Veterans Day from November 11th to the fourth Monday of October. However the law created too much confusion and when many veterans' organizations did not approve of the movable date, a movement to change the law began. As a result in 1975 congress passed a law authorizing a change to the original date to take effect in 1978. By 1977 most states had already reverted to the original November 11th date.
Veterans Monument in Memorial Park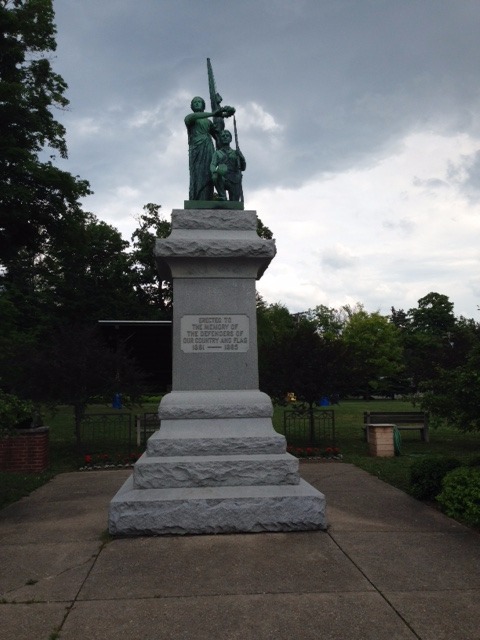 Volunteer
Looking to help out? We are always in need of volunteers to assist in our goal.
Become a Member
Interested in becoming a member of the Society? We would love to have you and it is easy to join.